Unique: Hotel with pick-up service from home
We'll bring you to Usedom
How very convenient. We'll pick you up from your home so you don't have to worry about getting there and back. You'll travel to Usedom with other holidaymakers, where you'll stay in a family-run hotel. The "Hanse Kogge" offers a ten-day trip service with pick-up from your front door. Our pick-up service is unique on Usedom. We use our company's own minibuses for the transfers.
Directions
Offer with pick-up service
Individual & group tours with pick-up
Extraordinary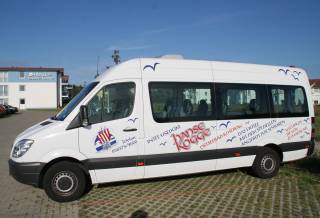 Organised travel to Usedom with transfer
Arrive with ease
Whether you are travelling alone or in a group: you will be picked up from your front door. Of course, our bus drivers will carry your luggage to the bus.
The minibuses are air-conditioned and accessibly designed. The travel times and breaks are coordinated with our passengers.
The transfer service is available from as far away as the Rhineland.
Group travel to Usedom
Offer including pick-up service
Our offer for groups or a trip with pick-up for individual holidaymakers includes:
Nine nights
Breakfast included
Half board included
Free use of swimming pool and saunas
Use of WiFi on the entire hotel premises
Please note that unfortunately we cannot offer group trips in the high season (July/August). In the low season (June and September) we can do so only on request.
Fares vary depending on the pick-up area. Call +49 (0) 38375 2600 or send us an enquiry for pick-up prices and special group rates.
The "Hanse Kogge" travel service minibuses can be booked for transfers, excursions and private trips.