Wellness hotel on Usedom
Bernstein Spa
You can't miss it: a building in the shape of a ship, specially designed for the Bernstein Spa of our wellness hotel on Usedom. And this ship is naturally on course for relaxation. The Bernstein Spa extends over three floors – from the lower and middle to the upper deck. You will find the swimming pool area, saunas and several treatment rooms on an area of 1,200 m².
Please note that there may be restrictions in the spa due to current regulations.
Swimming pool
Saunas
Relaxation area
Wellness over an area of 1,200 m².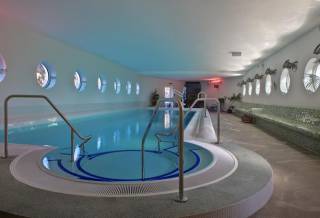 Top: Hotel on Usedom with swimming pool
Indoor pool at 30°C
Our hotel swimming pool is 15 metres long and 1.35 metres deep. A water temperature of around 30°C guarantees a wonderful swimming sensation. The pool is equipped with two different waterfalls, a countercurrent system and underwater bubbles.
A special feature of the swimming pool at our hotel on Usedom is the hoist into the water for people with restricted mobility.
Opening hours: 8:00 a.m. until 10:00 p.m.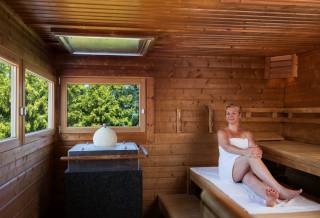 Enjoy a wellness experience at the hotel in Koserow
Our saunas
All saunas are log saunas made of Finnish polar spruce.
Finnish sauna: On the upper deck of our wellness building; outdoor sauna heated to 85°C with a view of the Achterwasser in the distance.
Organic sauna: The outdoor sauna heated to a pleasant 60°C is also located on the upper deck.
Non-nude warm air sauna: the non-nude sauna awaits you in the swimming pool area at a temperature of 60°C and 40 percent humidity with essential oils and rose quartz as special features.
Opening hours: 2:00 p.m. until 10:00 p.m.
Plan your wellness holiday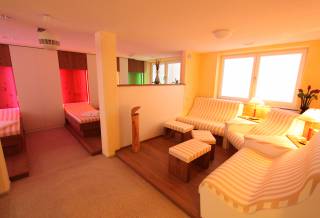 Relaxation at the wellness hotel
Relaxation area in the spa
Treat yourself to some downtime in the Bernstein Spa: after swimming or a sauna – or simply for the joy of relaxation.
Our relaxation areas:
Vineta relaxation room on the lower deck of the Bernstein Spa
Benches by the swimming pool
Lobby on the upper deck of the building: with beach chair flair around the fireplace
"Achtern" sun deck on the upper deck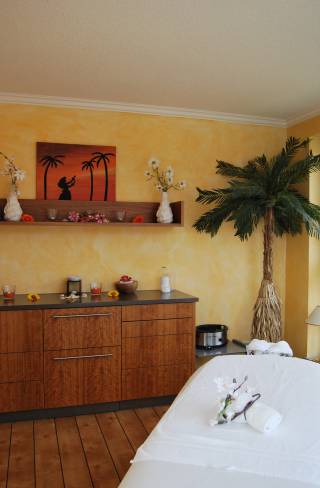 Feel the wellness
Treatments at the wellness hotel
Gentle or firm touches that instill relaxation. Active ingredients that are good for the skin and help purify it. Experience the last word in well-being with the treatments in the Bernstein Spa.
Treatments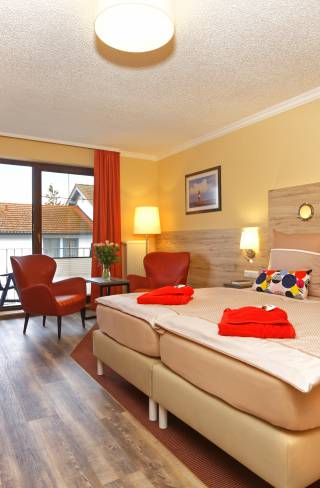 Exclusive rooms & apartments
Reserve your room at the Hanse Kogge, which is located close to the Baltic Sea in Koserow.