Exercise & sport on Usedom
Feeling full of energy on holiday
Set your endorphins free as you enjoy sport & exercise on Usedom! Enjoy the gym at the hotel, find your favourite running route in Koserow, get out and about on the island with Nordic walking poles or take advantage of the tennis courts only about 1.5 km away from the "Hanse Kogge". There's also volleyball and beach soccer on the activity beach – to the left of the Koserow pier.
Nordic walking & jogging
Gym
Design your individual activity programme
Let's get started...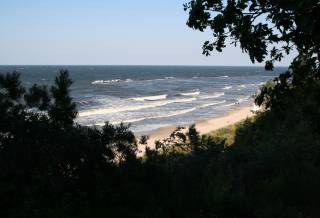 Stretch your legs by the Baltic Sea
Jogging & Nordic walking
Put on your running shoes for a spot of jogging and Nordic walking and make the most of the pleasant Baltic Sea air. A popular route runs to the Koserow pier and through the forest back to the "Hanse Kogge". Alternatively, take a walk in the sand of the wide beach itself – accompanied by the sound of the sea.
Streckelsberg, Kölpinsee, Achterwasser dike ... there are plenty of routes. 
Keeping fit on holiday
Our gym
The gym is equipped with endurance machines such as rowing machines, cross trainers and treadmills for cardio training. Various training equipment is also available for strength training.
The gym is used by the physiotherapy practice on the hotel grounds, but is otherwise freely accessible to house guests.