Cycling holiday on Usedom
Cycling by the Baltic Sea
Usedom offers mainly flat routes with few climbs for maximum enjoyment on your cycling holidays. A Baltic Sea breeze, an abundant natural park, plenty of woods and fields, and a host of impressions of the island showing just how picturesque our homeland is. About 200 km of cycle paths stretch across Usedom, including the popular coastal cycle path from Karlshagen to Świnoujście. Why not explore the different beaches and discover the interior of the island on two wheels?
Rent bikes
Cycling tours
Cycling tours & excursions by bike
Cycling holidays on Usedom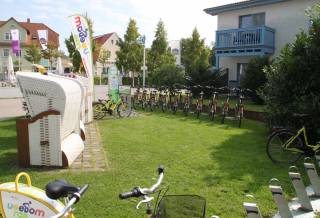 UsedomRad bike hire
Rental bicycles & e-bikes
The Hanse Kogge is a bicycle-friendly business and partner of UsedomRad which operates a bicycle rental system on Usedom. There are bike stations directly at the hotel and at many points on the island, so you can rent or return bikes anywhere. Rent bikes and e-bikes directly at reception or by phone or app at the bike station. Bicycles are an easy, comfortable and environmentally friendly way to explore the island's fascinating natural landscape.
Tips for your cycling holiday
Cycling tours on Usedom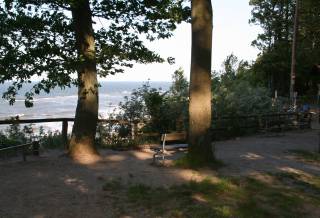 Cycling trips on Usedom
To the north & south
Cycle from Koserow to the north of the island: via the seaside resorts of Zinnowitz, Trassenheide and Karlshagen and then to Peenemünde (there and back is approx. 45 km).
Cycle along the Baltic Sea coast to the imperial spas of Bansin, Heringsdorf and Ahlbeck and on to Świnoujście in Poland. And if you feel like it, another 15 km to the Polish seaside resort of Misdroy on the island of Wolin. The entire ride there and back is a good 90 km.
The bike trips can be shortened depending on your preferences of course: either by shorter variants, or you can also return the rental bikes at UsedomRad stations and return to Koserow by public transport.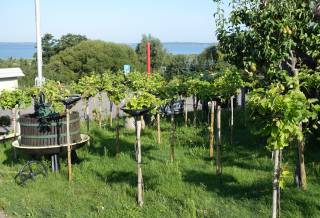 Bike trips in the Achterland
Bike trips on Usedom
Off to the Achterland! Enjoy the natural world on a bike ride to the port of Stagniess via Kölpinsee-Loddin and Ückeritz and then along the Achterwasser with a beach crossing of approx. 150 metres. You then carry on to Neppermin and the Dutch windmill in Benz. We recommend continuing to Alt Sallenthin to the "Sieben Seenblick" lookout tower. The bike trip of around 42 km leads back to Koserow via the Schmollensee and Ückeritz.
Another beautiful bike route is to the Gnitz Peninsula. Ride from Koserow to Zinnowitz and on to the marina in Krummin, then to Neuendorf and Lütow. Return to Koserow via Zinnowitz (approx. 33 km).
Plan your cycling holiday on Usedom
More tips
We will be happy to give you more tips for the most stunning cycling tours on Usedom at reception.
Have you already planned your cycling holiday by the Baltic Sea?
Select your travel period