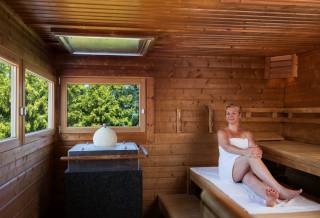 When staying in the apartments & penthouse
All-inclusive services
WiFi in the holiday apartment and on the grounds of the "Hanse Kogge".
Use of the hotel wellness area with swimming pool and saunas
Use of the gym (subject to availability)
Information about Usedom and Koserow at the hotel reception desk
For bookings over several weeks: linen changed weekly
Transfer to and from Koserow train station by arrangement
For a charge
Other services
Breakfast in the hotel is possible on request: €12.50 per person for holiday apartment guests
Evening meal can be booked at the hotel daily
Cleaning service: You can additionally book the cleaning of your holiday apartment during your stay. Final cleaning after departure is included in the price.
Charging point for electric cars Find out more
Parking on the grounds of the "Hanse Kogge" for a charge
Treatments at the Bernstein Spa can be booked. Find out more
Private spa in Loddin can be booked. Find out more
Transfer to Koserow train station on request
Bicycles and e-bikes for rent from UsedomRad Find out more
Two stand-up paddleboards at the hotel, which can be rented for a charge
Useful information
Information for apartment guests
Check-in: The holiday apartments are available from 3:00 p.m. Check-in at the "Hanse Kogge" hotel reception.
Check-out: Please vacate your holiday apartment by 11:00 a.m. on the day of departure.
Directions: Information on location & directions for holiday apartment guests can be found separately. More about location & directions
Payment options at the "Hanse Kogge": Cash, EC card, credit cards (Mastercard and Visa). In the restaurant you can have your bills charged to your holiday apartment.
Apartments & booking
Holiday apartments: Our 21 holiday apartments with kitchen – along with the penthouse – are spread over two buildings on the hotel grounds. One holiday apartment is accessibly designed, and five apartments and the penthouse can be reached by lift.
In addition, we have hotel apartments without kitchen and suites that are wheelchair accessible.

Long-stayers: The holiday apartments can also be made available for long-stayers, e.g. business travellers.
Koserow spa tax: A spa tax is payable for each day and overnight guest in Koserow. This is used for instance for beach cleaning, care and maintenance and for events. The spa tax is also levied for guests of the holiday apartments: the spa tax in Koserow is €2 per day (from 1 April to 31 October) or €1 per day (1 January to 31 March and 1 November to 31 December). Guests with a disability classified as 80 percent or higher and their accompanying persons receive a reduction of €0.50 per day. You should always carry your spa card with you outside the holiday apartment.
Meals: The holiday apartments have cooking facilities. Breakfast and dinner at the hotel can be booked. The nearest supermarket is just 1 km away. There is also a bakery about 150 metres away.
Dogs: Well-behaved dogs are allowed in the holiday apartments. We charge a surcharge per dog of €20 per night (without food). Please let us know in advance if you intend to bring your dog into the apartment. We ask you to be mindful of the following out of consideration for other guests:

Please keep your dog on a lead on our hotel grounds.
Please do not let your dog into the guest bed – either to play or sleep.
Please do not bring your dog to breakfast.
The dog beach can be found to the left of the Koserower pier.

Cancellation policy: Free cancellation is possible up to 28 days before arrival. After this point, a cancellation fee of 80 percent of the total costs may be charged.
Information about holidays during the COVID-19 era
Hygiene standards
We maintain extensive hygiene standards on the "Hanse Kogge" premises:
We have made arrangements for the social distancing rules
We have a hygiene and safety concept
We wear mouth and nose protection
We provide fresh air via a ventilation concept
We provide information to guests digitally
We can provide our guests with a coronavirus test immediately
We have received the hygiene seal "Enhanced safety in the holiday destination MV++".

We have been awarded the ++ version of the "Enhanced safety in the holiday region" seal.
We ask for your understanding for the measures we have taken to ensure a carefree holiday. Stay healthy! Your "Hanse Kogge" team.