Holiday on Usedom in an accessibly designed hotel
Equipped for disabled people
Whether young or old, anyone can be affected by disability. Our hotel aims to make a holiday on Usedom possible for wheelchair users and people with impaired mobility. Our family business has 20 years of experience in accessible tourism. We have received numerous awards for the services we offer.
Both the hotel and the restaurant are accessibly designed. We offer 16 accessible apartments and suites, 20 accessible double rooms and an accessible swimming pool.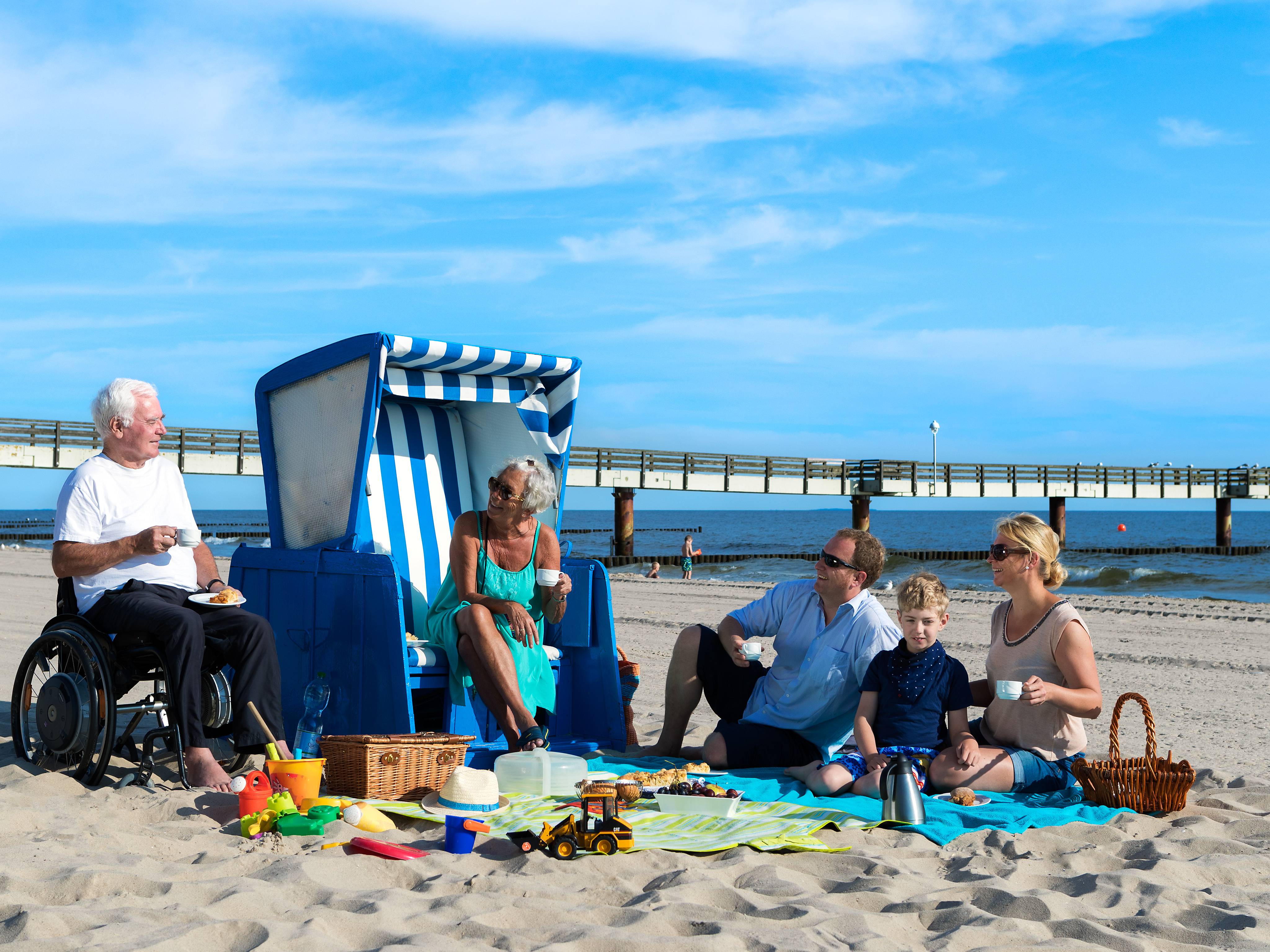 Accessible & welcoming to disabled people
Your accessibly designed hotel "Hanse Kogge"
Several buildings in our hotel complex meet the needs of guests with impaired mobility and guests who are senior citizens. We have taken into account the requirements of DIN 18024 and the Deutscher Seniorenring e.V. (German Senior Citizens' Ring). Below you will find details about the corresponding equipment.
Please discuss your individual requirements with the reservation when discussing your booking. We're here to help.
Call us on +49 (0) 38375 2600 or send us an enquiry!
Our restaurant has a disabled toilet. You can reach all rooms with a wheelchair without having to climb any steps. Exceptions are our bowling alley and the pavilion lounge.
The bed height in our accessible guest house is 53 cm. These beds can not be adjusted in height.
A nursing bed can be placed in the room on request. These nursing beds can be adjusted in height and the head and foot parts can be adjusted. They have a boom, but no bars (only on request, €10 per day). If you need such a nursing bed during your stay at our hotel, please let us know when booking. At the same time, please let us know which side the bed should be on in the room or which side you would like to get in from.
The lift controls in the accessibly designed guest house "Hamburg" are placed at a height of 85 cm.
The doors to the guest house and in the corridors open automatically. The locking system works without a key, doors are opened by simple contact with the lock. Both hands are needed to open the room door.
Our doors are all 90 cm wide.
The bathrooms in the accessible double rooms are equipped with a shower with a moveable seat. There is a rail next to the toilet. We have rooms where the rail is on the left or right – just let us know where you need the rail when booking. Where there is no rail, the distance to the wall or to the side is 1 metre. The toilet height is 53 cm. A raised toilet seat may be installed by arrangement. The mirrors at the sink are not foldable here.
The bathrooms in the accessible apartments are even more spacious and also have a second rail next to the toilet, which can be folded upwards. These bathrooms also have a folding mirror at the sink. The clearance between the toilet and the wall is 90 cm on both sides and is freely accessible (DIN 18024/25).
The accessible double rooms and the accessible apartments have roll-in shower floors with no shower tray.
A workplace at the reception desk has been converted for wheelchair users.
Aids may be borrowed (for a charge), e.g. a wheelchair for the shower, a walker or a manual wheelchair.
There is always a risk of our facility being damaged with the wheelchair or walker. If this happens, please let us know and arrange for compensation via your liability insurance. This is necessary so that we can continue to offer affordable services for people with disabilities in the future.
Large electric wheelchairs are not permitted for use in restaurants, spas and hotel rooms. Please leave them in front of reception or outside your room. After two serious accidents (fractured bones of guests who were hit) involving these appliances, we need to be consistent in enforcing this stipulation.
Care services can be arranged on request. Our employees are not permitted to perform care services of any kind.
Accessibly holidays at the Baltic Sea
Carefree stay
Enjoy your holiday on the Baltic Sea coast
Accessibility in Koserow
The Baltic resort of Koserow itself is accessible to a large extent and certified disabled-friendly. Kerbs are lowered and the promenade is level.
Coloured maps of Koserow, which you can also obtain at the hotel, provide information about disabled toilets, beach exits and beach chairs.
The lifeguards keep wheelchair boards on the beach and a Tiralo amphibious wheelchair ready for when wheelchair users fancy a dip in the Baltic Sea.
Even necessary dialysis treatment won't get in the way of your holiday – the Usedom Medical Care Centre in Koserow offers dialysis for holidaymakers.